Yankton Pediatric Chiropractic Care
A Heart For Helping Children™
"One of the highlights of my career is working with little kids and infants. It breaks my heart to see such sweet children cry or not sleep at night."
The good news? Chiropractic can make a tremendous difference in your child's happiness and attitude!
"My love for kids stems from having five daughters and many grandchildren, most of which have had chiropractic care almost all their lives. We hardly ever took them to a medical doctor and the only time we got a child vaccinated was when one of them needed tetanus shot after stepping on a nail."
"So, to say that I believe in chiropractic care for children would be an understatement!"
How Chiropractic Care Can Make a Difference in Your Child's Life
We see a lot of children come in with issues such as:
won't stop crying
trouble eating
trouble sleeping
posture issues (that can lead to scoliosis)
"Noticing the changes in them after care is amazing and inspires me to keep helping more children smile again."
"I believe chiropractic care is especially beneficial for children, as their bodies are still young and they quickly respond to natural care. Parents love seeing their kids stop crying and laugh uncontrollably or sleep through the night. It's really precious."
---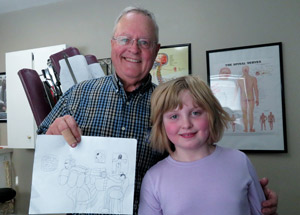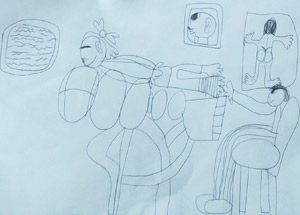 Thank you, Dr. B – Daisy always feels better after a visit to you – that's why she made this picture after her last visit
- Stacy B. & Daisy D.
Interested? You're Making the Right Call.
Kids really love coming to the clinic as it's a fun and welcoming environment. And, as soon as you see your child smiling from ear to ear, you'll be glad you stopped in to visit. Before you know it, your kids will probably remind you to come back and visit Dr. Braun!
Give us a call to find out how chiropractic care can help your child! (605) 664-2700
Contact Us
---
Pediatric Chiropractic Care | (605) 664-2700